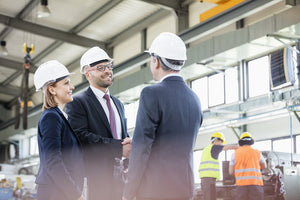 Professional Certificate in Commercial Coverage Fundamentals
Commercial Insurance Fundamentals is a sequenced curriculum encompassing fifteen (15) hours of online, self-paced learning. These highly interactive and dynamic online courses are developed by industry experts in conjunction with St. John's University's School of Risk Management, Insurance and Actuarial Science, the courses contain all of the essential information needed for an introduction to the insurance industry and core commercial coverages, and can be taken either at home, the office, or on the road.  Access to the curriculum is available immediately upon registration. 
Commercial Insurance Fundamentals is ideal for any individual needing an expert overview of key insurance industry concepts – including new hires, non-market facing staff or those needing to learn concepts and coverages beyond their current responsibility.
Commercial Insurance Fundamentals can be taken as a comprehensive four-module package to achieve a thorough onboarding or as stand-alone modules targeting a specific coverage line. Learners will receive a certificate of completion for each module completed and a final, signed Professional Certificate of Completion from St. John's University's Tobin Center for Executive Education upon finishing the entire curriculum.
Commercial Insurance Fundamentals – For individual purchase use the Shopping Cart icon above.
For Individuals:
Full curriculum purchase: $580

For Corporations:
For corporate clients, we offer two options:
Hosting by St. John's University: Course files are accessed on St. John's Online Learning Portal. Once enrollees register and receive login credentials, courses can be completed at the learner's preferred pace. All registration, tracking, reporting and technical support functions are provided as part of this license. Licenses are based on the number of seats purchased; bulk discounts apply.
Hosting on the client's Learning Management System: Courses are provided as SCORM-compliant files for uploading into the client's Learning Management System.
For more information about either option, email Larry Pistell, Senior Associate Director of Industry Relations at the Center for Executive Education at pistelll@stjohns.edu.
Course Details:
Module One:  Insurance Industry Fundamentals (3.0 hours)
Courses:
Introduction to the Insurance Industry
Introduction to Property and Casualty Insurance
Introduction to Insurance Distribution Channels
Insurance Industry Overview: Risk, Markets and Regulation
Introduction to Property & Casualty Insurance Contracts
Introduction to Insurance Carrier Finance
Module Two:  Commercial Property Insurance Fundamentals (4.5 hours)
Courses:
Introduction to Risk Management
Introduction to Risk Transfer and Policy Design
Introduction to C.O.P.E. (Construction, Occupancy, Protection, Exposure)
Property Insurance Core Principles
Property Insurance Coverages
Property Insurance Limit Determination
Property Insurance Risk Management
Introduction to Business Owners Policy
Module Three:  Commercial General Liability Fundamentals (4 hours)
Courses:
Commercial General Liability: Core Principles
Commercial General Liability: Coverages
Commercial General Liability: Products – Completed Operations Hazard
Commercial General Liability: Exclusions
Owners and Contractors Protective Liability
Commercial Umbrella/Maintenance of Underlying Limits
Introduction to Businessowners Liability Coverages
Module Four:  Fundamentals of Workers Compensation, Business Automobile and Garage Liability (4.0 hours)
Courses:
Workers Compensation Insurance Core Principles
Workers Compensation Insurance Coverages
Workers Compensation Insurance Classifications
Workers Compensation Insurance Risk Management
Introduction to Commercial Auto Insurance Coverages
Introduction to Commercial Auto Insurance Declarations, Classification and Rating
Introduction to Garage Coverages